From Entertainment Weekly, August 20-27:
FINDING NEVERLAND
STARRING: Johnny Depp, Kate Winslet, Radha Mitchell, Dustin Hoffman, Julie Christie
WRITTEN BY: David Magee
DIRECTED BY: Marc Forster
A little sweetness can be a beautiful thing. Too much, however, and you've got yourself a Robin Williams clip reel. Of course, the goal is to make audiences weep like little girls chopping onions and not have them resent you for it in the morning. That's the idea if it's Academy Awards you're after. And since FINDING NEVERLAND may wind up being Miramax's best hope for statuettes this year, you'd better believe that's the idea.
Fortunately, NEVERLAND features a stud farm of Oscar pedigree. In addition to MONSTER'S BALL director Forster and three-time nominee Winslet, there's Depp, hot on the heels of his Best Actor nod as Captain Jack, playing prominent Scottish playwright J. M. Barrie, a misunderstood, boyishly mischievous eccentric. In other words, a character right in Depp's wheelhouse. The film traces Barrie's touching friendship with a widowed mother (Winslet) and her sons who inspired Barrie's masterpiece, PETER PAN.
NEVERLAND has been awaiting release for over a year, hindered by Universal's 2003 PETER PAN, which was contractually allowed to bow first. Now that it's opening, the film may steam up some literary scholars who argue that Barrie's life may not have been as pure as NEVERLAND. "There were a couple of ways you could go with Barrie," says Depp. "One was riding on the coattails of all the negative hearsay. The possibility that maybe he was a little sideways with the children. But f---, that's an obvious way to go, isn't it?"
Winslet, who, it should be noted, played Wendy in a stage production of PETER PAN at age 15, says Depp was perfectly cast: "He's like Peter Pan." In fact, Depp got along so well with one of the child actors, 12-year-old Freddie Highmore (who plays Peter), tha the helped him land the role of Charlie in his and Tim Burton's upcoming CHARLIE AND THE CHOCOLATE FACTORY. Winslet adds that during one stuffy dinner scene in the film, Depp secretly rigged a handheld whoopie-cushion device that had the child actors nervously giggling exactly as the script called for. "The boys didn't know whether to laugh or to cry," she says. When reminded of the whoopie-cushion incident, Depp cracks up, then deadpans, "There are certain elements of boyhood we can't escape. And farts will always be funny." And in the right hands, maybe even a little bit sweet.
WHAT'S AT STAKE: Depp's long-overdue first Oscar.
Premiere Magazin / September
Finding Neverland (Miramax, October 22)
Loosely based on true events, this mix of period drama and fantasy revolves around author and playwright J.M. Barrie (Johnny Depp), who finds inspiration for his most famous work, Peter Pan, in his relationship with the Llewelyn Davies family (widow Sylvia, played by Kate Winslet, and her four sons). "It's more trying to capture the spirit of the story than trying to make a historical portrait," says Marc Forster, who read the script before he filmed Monster's Ball but was able to get the gig only after that film's success. In the can for more than a year (it had to be released after last Christmas's live-action Peter Pan), the film moves between Barrie's emotional reality – his estrangement from his wife (Radha Mitchell), his affection for Sylvia and her offspring – and his dreamworld, as his imagination gives birth to the boy who won't grow up. "As an actor, that's what you do – you put yourself into a fantasy world that isn't always nice," says Winslet. "The world that Sylvia inhabits is pretty tough toward the end. But that's what acting is, it's about pretending, so for me it's a very poignant story."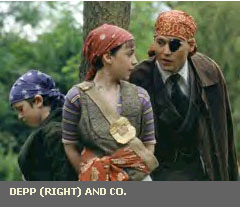 About a boy: Depp, the father of two, embraced his own inner child. "It was no problem for Johnny to get right inside there with those boys and be a kid," Winslet says. "That stuff you really can't act."
ARTISTIC LICENSE
by Ada Guerin
Jan A.P. Kaczmarek 'Finding Neverland'
Aug. 17, 2004 - The Hollywood Reporter
"Most of the movies I have done have been dark, and when my name came up initially (for the project), the objection was, 'Can he write music that will express light and joy and innocence?' At the time, I was in Poland, and in a moment of passion, I hired an orchestra and wrote a very short piece that expressed all of those things. Although I didn't use any of the motifs from that piece, it proved to be a very decisive moment.
" From the first time I saw the picture, it was very obvious what the score should be: subtle , very innocent. I tended to divide the themes into two categories : themes that express the imagination of JM Barrie and the energy of the boys at play, and themes that are more mature, relating or dealing with death. In the film, Johnny Depp does a great version of ( Barrie ). ( He is ) a thoughtful, gentle, loving person who goes through this adventure with these four kids discovering Neverland.
" I used the recorder, which is special to me. I only use the recorder when it ( must convey ) something important, especially when there's a need for innocence and purity- the recorder always has this kind of connotation. I used strings and piano and voices of a boy' s choir to convey death , which is played very slow and careful. For me , the challenge was writing it in a way that you switch between both words- a world of careless fun and a world of crisis. It needed to be written in a way that would seem natural, like life. Because that's the way it is : We smile one day , and the next day, we cry."
Es folgen zwei Artikel von Leuten, die Finding Neverland in der Vor-Premiere im August sehen durften
Early Neverland review Aug. 21, 2004
Source: JoBlo.com by: JoBlo
The buzz is all about the Oscar with Miramax's FINDING NEVERLAND this year, and the fact that it stars a couple of hot little acting numbers named Johnny Depp and Kate Winslet, certainly bodes well for this schmuck. That said, the film's first trailer bored the crap out of me and I'm still not sure if I buy Depp's accent yet (time will tell). That said, a schmoe from our board, one 'MadsenOMC' (last reviewed THE GIRL NEXT DOOR here) saw the film already and was nice enough to share his positive (with spoilers) review with us below. The film opens in limited release on November 12, 2004.
I was pleasantly surprised to receive an invitation to a screening of Finding Neverland this week. I knew that its release date was still at least a couple of months away, and I still have no idea why Miramax held a screening earlier this morning that was attended by only five or six people. I'm certainly not complaining though, because it is a wonderful film.
I hadn't even seen a trailer for it yet. I knew who was in it, who directed it and that it was about J.M. Barrie, and that's about all I knew. I had absolutely zero expectations, which is a nice way to see a movie these days. Doesn't happen often.
Anyway, the story begins in London circa 1903. It is opening night of Barrie's (Johnny Depp) latest play. For the life of me I can't remember the title of it. It's only mentioned briefly in passing. Though it plays to a full house of theatre lovers, the reception is poor and it's a huge flop ("complete rubbish" one theatre-goer calls it), much to the dismay of Barrie's wealthy producer, Charles Frohman (Dustin Hoffman).
Barrie notices almost instantly that the audience hates it. People are yawning and snoring and exchanging glances that seem to say, "What on earth is this crap?" Upset that he has written something beneath his talents, a disappointed but not crushed or devastated Barrie vows that his next work will be a smashing success.
To get his mind off of his last play and start fresh with a clean slate, Barrie begins walking to a nearby park with his massive dog. He finds a comfortable bench and tries to start writing a new play. One afternoon, he encounters a five year-old boy named Michael (Luke Spill).
Since he is the youngest of four boys, Michael must stay under the bench until the oldest boy, George (Nick Roud) says it's ok to get up. Barrie tells George that he and his dog will put on a show if Michael is allowed to get up from under the bench. Soon, Barrie and his dog are slow dancing together for Michael, George, their mother, Sylvia (Kate Winslet), and the two other brothers, Peter (Freddie Highmore) and Jack (Joe Prospero).
The family loves the performance, though Peter is the hardest to impress. Barrie begins spending time with the family every day in the park, and later, at their home and his own summer cottage outside of the city. They play elaborate games of Cowboys and Indians and stage plays, among other things.
Barrie comes to love the boys as much as they love him. Meanwhile, he also starts writing his new play, based on a combination of his adventures with the boys and his own childhood creation, Neverland.
Not everyone is pleased with Barrie's relationship with Sylvia, a widow, and her sons. Barrie's wife Mary (Radha Mitchell), who cares more about society life and climbing the social ladder than anything else, becomes increasingly frustrated with his refusal to stop spending so much time with them and missing dinner's at home. She threatens to leave him if it continues.
Equally upset is Sylvia's mother (Julie Christie). She wants Sylvia to find a respectable new husband, and she fears that her daughter's insistence upon befriending a married man has ruined her reputation and any chance at finding a decent husband. People are also gossiping about the nature of both Barrie's relationship with Sylvia and the boys themselves.
There wasn't a minute of this movie that I didn't enjoy. The fact that it's only about 1 hour and 40 minutes long certainly helped. There isn't any unnecessary fat that should be trimmed and it doesn't overstay its welcome. It is a delight from start to finish.
The cast, of course, is superb. Depp, sporting short hair and looking as young and boyishly handsome as he has in a long time, is excellent as Barrie, a flawed but decent and caring man who truly comes to love this new family that has entered his life. He's almost saintly, and I'm not sure how accurate the movie's representation of this man really is (the beginning states that it is "Inspired by True Events"), but he's the kind of man that's almost too good to be true. Definitely not a tortured artist struggling with his demons.
Winslet and Christie are also very good. Hoffman's role is barely long enough to be considered a cameo. He has maybe five minutes of total screen time, not enough to really make any kind of impression. The boys, however, are simply fantastic, especially Highmore (Two Brothers). He easily steals every scene he's in. He has a natural, composed screen presence and it's impossible not to love the kid.
Equally impressive is Marc Forster's direction. Finding Neverland could not possibly be any more different from Monster's Ball, at least on the surface. It's pretty remarkable that they come from the same director. Here he manages to perfectly balance humor with more serious moments, particularly Sylvia's serious illness. That he managed to do such an incredible job with both seems to indicate that this is a director who could be making quality movies for quite a while.
You really fall in love with Barrie, Sylvia and the boys. It's a simple story, essentially about a man discovering a new family and how they come to love each other. It isn't flashy or earth shattering. It won't change the world. But it's hard to imagine someone not being totally entertained by it.
There are a couple of minor flaws that aren't difficult to look past. Sylvia is a little underdeveloped. We learn that she lost her husband and that she's sick, but we really don't learn much more than that. Also, Mary figures heavily into the story during the first half, but almost completely disappears after that. Finally, it does get a tad overly sentimental at the end, but not unbearably so. I will admit to wiping back a few tears.
I'm not sure if this is a serious Oscar contender or not. It's a moving story that's exceptionally well-told, but it might not be Oscar bait. I do know that I enjoyed it immensely, that I would definitely see it again, and that it'll probably make my top 10 list for the year. Kudos all around.
Here comes an Oscar for Depp!!
This movie was absolutely amazing in many ways. I was fortunate enough to see it on a sneak preview even though it does not open until November. It really is about believing in yourself and taking things lighter--these are many identifiable themes. This is a movie you could take your grandmother to--really enchanting and thankfully squeaky clean!! A warning: bring the Kleenex--I cried quite a bit!
It is all about J.M. Barrie's life and circumstances leading to his inspirations for writing "Peter Pan" and performing it as a stage play. Look for Hoffman in a rather small role, unfortunately, there is little of Captain Hook and it does not involve him--what a shame! However, his performance is still effective. Kate Winslet is, as always, very good as the mother of the boys. She has a touching subplot. Radha Mitchell is also good, although she plays the traditional "wife role", which gives her little to do more than pout. Julie Christie gives one of the better performances of the movie. You will fall in love with precious Freddie Highmore--easily stealing many scenes, and he is a formidable match with Johnny Depp. No wonder Depp fought for him to play Charlie in "Charlie and the Chocolate Factory". Finally, Johnny Depp is absolutely grand and believable as Barrie, mastering an accent, and using minimal makeup. He adds the perfect blend of childlike twinkle while also handling the adult role. If he is not in the Oscar race for Best Actor, I will be absolutely stunned and I can usually pick them.
While this sounds like some mush-melon review, it is not really supposed to be anything more than to praise the movie for what it is. I didn't really even want to see this movie, and I ended up loving it, which is rare for me.
Anyway--go see it--you'll be glad you did!!
A comment by person who saw FN:
travelgirl924
Richardson, Texas
Was Kate Winslet zu dem Film sagt
Kate Winslet was on the cover of New York Times Style Magazine. It's the big (nearly 300 pages!) women's fall fashion issue. Inside there's a six page spread on Kate that includes a one page article. There's a couple of mentions about Finding Neverland.
Quote:
Despite having starred in "Titanic," the most successful movie of all time, and having been nominated for three Academy Awards, Kate Winslet still had to mount a campaign to land her role in "Finding Neverland." Johnny Depp had already been cast as J.M. Barrie, the author of "Peter Pan," and the studio, Miramax, was hoping for a more marketable name to star opposite him, like Gwyneth Paltrow, perhaps, or Nicole Kidman. The film, directed by Marc Forster, weaves together a tragic family story and the creation of Barrie's greatest artistic triumph. Out in theaters in October, "Neverland" is eloquently sentimental, a movie that beautifully depicts the link between art and life, where influences overlap and inspire.
"I loved the script," Winslet recalled, "but I'm not sure Johnny even knew my work." She laughed at the memory. Winslet was calling from her car, which was parked out side her house in London…
Quote:
….Winslet tracked down Forster and invited him to lunch at a restaurant near her home. "The food was wonderful," he recalled. "Kate had gone through the script line by line. The woman in the movie has four boys, and although Kate is only 28, she has her own kids, and you believe her as a mother. When she went through the script, I could tell that she studied details. Miramax may have wanted Nicole, but Nicole would not have had that mix of gorgeous and maternal."
Interesting about Miramax wanting either Gwyneth or Nicole to star opposite Johnny… huh?? I think Miramax believes the sun rises and sets with those two actresses....
Ein Bericht über Marc Forster. Aber Johnny wird auch erwähnt und eine kurze Inhaltsangabe zum Film ist auch dabei
Meet Director Mark Forster, Who Set The Bar for Marketing Independent Films
Monday, August 16, 2004 - Bob Rivers Twisted Radio News
Marc Forster, who directed Halle Berry to an Oscar for "Monster's Ball," may lead another actor to the gold statuette when "Finding Neverland" comes out this fall, starring Johnny Depp as J.M. Barrie, creator of "Peter Pan."
"Finding Neverland" will be released the week of Thanksgiving.
"Finding Neverland" also stars Kate Winslet, Julie Christie and Dustin Hoffman.
The movie is based on the play, "The Man Who Was Peter Pan," by Allan Knee.
"Finding Neverland" explores the life of Scottish author James Mathew Barrie, traversing both fantasy and everyday reality, melding the difficulties and heartbreak of adult life with the spellbinding allure and childlike innocence of the boy who never grows up.
The story begins as Barrie sees his latest play open to ho-hum reaction in Edwardian England. In need of inspiration, he finds it during his daily walk with his St. Bernard, Porthos, in London's Kensington Gardens, where he meets four fatherless boys and their recently widowed mother, played by Winslet.
Despite the disapproval of the boys' grandmother (Christie) and his own wife (Radha Mitchell), Barrie befriends the family. In his endless games of make believe he transforms the kids into "The Lost Boys of Neverland."
Their play time inspires "Peter Pan," which Barrie's loyal producer (Hoffman) agrees to stage despite worries that he'll lose his shirt. The actors hired for the play are even more skeptical after they're subjected to unprecedented requests to fly across the stage, talk to fairies made of light and wear dog and crocodile costumes.
Then, just as Barrie is ready to introduce the world to "Peter Pan," a tragic twist of fate makes the writer and those he loves most understand just what it means to really believe.
Marc was drawn to the film after Oscar-nominated producer Richard Gladstein brought him David Magee's screenplay. "I saw the film as a story about the power of a man's creativity to take people to another world, and about the deep human need for illusions, dreams and beliefs that inspire us even in the face of tragedy," said Forster. "For me, it is about the transformative power of imagination -- being able to transform yourself into something greater than you are, even if nobody believes in you."
Central to the movie is Johnny Depp, the recent Golden Globe winner and Oscar nominee, who as much as any leading modern actor, seems to have kept his own childlike spirit vibrantly alive. Says Marc of Depp: "Johnny is perfect to represent a man who never wants to grow up because you can see that he has this very accessible child inside him from the choices of movie roles he makes. He brought something very special to the role, underplaying it in a way that really pays homage to the man we both believe Barrie wanted to be."
Depp appreciated the fact that the relationship between his character and Kate's never blossoms into a traditional romance. "The film never seems to go quite where you expect it go," he said. "It never turns into a sentimental love story of two people destined to be together or that sort of thing. Instead, it's a much more complicated and moving relationship between two people who need each other on a level that's really beyond explanation or words."
For years, children and adults alike have fallen in love with J.M Barrie's world-renowned play "Peter Pan, Or The Boy Who Wouldn't Grow Up," which celebrates its 100th anniversary in December 2004. The legendary tale follows the adventures of the Darling children – Wendy, John and Michael – as they journey to a far-off land where fairies exist, anyone can fly and magic and mischief of all kinds abound in an Eden where time itself is suspended. It was said that at the opening performance of "Peter Pan" an audience of mostly adults clapped so exuberantly to register their belief in fairies it caused the actress playing Peter to burst into tears. Shouts for curtain calls lasted late into the night.
From its opening night at the Duke of York's Theatre on December 27, 1904, "Peter Pan" was an instant cultural phenomenon and drew acclaim for its innovative and unprecedented staging involving audience interaction. It also was clear that there was much more to the story than just a child's grand adventure. Through its Broadway premiere on October 20, 1954 (with Mary Martin in the title role) and still today, the play's themes resonate equally with adults and children, and the combination of irresistible storytelling and timeless relevancy has made it a classic of literature – read as avidly in nurseries as in universities -- for a hundred years and counting.
"Peter Pan" has become a benchmark of popular culture. Its credits include:
Giving birth to children's literature as a popular commercial genre with Barrie's novel of "Peter Pan."
The word "Neverland," defined in the American Heritage Dictionary as "an imaginary and wonderful place; a fantasy land."
The name Wendy. The young daughter of one of Barrie's associate couldn't pronounced her Rs, and she used to call Barrie her "fwendy."
A tradition of cross-gender casting in the role of Peter. A male wasn't cast as Peter Pan in England until 1982.
A legacy of helping ill children. Barrie bequeathed the copyright for "Peter Pan" to the Great Ormand Street Children's Hospital in England, which has used the millions generated from the copyright to treat kids.
It was Marc Forster's unique creative vision that led him to be tapped to direct the 2001's Academy Award-winning "Monster's Ball," which over the years had become infamous as one of the best scripts floating through Hollywood. Though only his third feature, "Monster's Ball" received two Oscar nominations – with Halle Berry winning for Best Actress. Teeming with raw emotion and quiet intensity, "Monster's Ball" offered a powerful glimpse into the encumbering legacies of family and race, loss and redemption, as well as commanding performances by Berry, Billy Bob Thornton, Heath Ledger, Peter Boyle and Sean Combs. In the delicate balance of narrative economy and visual lyricism, Forster rendered a film of unflinching honesty, full of characters struggling to transcend the compromises of their condition.
With the recently completed "Stay," Forster continues to foster his sterling reputation. "Stay," starring Ewan McGregor, Naomi Watts, and Ryan Gosling, is a reality-bending thriller about a psychologist whose suicidal client makes bizarre predictions that begin to come true.
The seeds of Forster's moody, reflective aesthetic were sown in his second film, "Everything Put Together," which he also co-wrote. A creeping, subversive piece of psychological horror about a woman (Radha Mitchell of "Peter Pan" and "Man on Fire" with Denzel Washington) who finds herself alienated and haunted after her newborn baby dies of Sudden Infant Death Syndrome, "Everything Put Together" premiered at the 2000 Sundance Film Festival before earning Forster the Movado Someone to Watch/Independent Spirit Award.
Born in Ulm, Germany in 1969 and raised in Switzerland, Forster led a somewhat sheltered life. He didn't see a film until he was 12. It was the 1979 war drama "Apocalypse Now" that inspired him to become a filmmaker.
He came to the U.S. in 1990 to attend NYU Film School, graduating in 1993.
He stayed in New York to complete two documentary films for European television: "Silent Windows," an intimate look at teenage suicide, and "Our Story," a touching exploration of the lives of child burn victims.
Forster moved to Los Angeles, where he soon made a name for himself based on the offbeat appeal and popularity of his first film "Loungers." An absurdist musical about four wannabe lounge singers, "Loungers" won the Audience Award at the 1996 Slamdance International Film Festival.
Marc is next on board to direct "Stranger Than Fiction," due in 2005, about an IRS auditor who suddenly finds himself the subject of narration only he can hear, narration that begins to affect his entire life, his work, his love life, even his death.
Forster currently resides in Los Angeles.